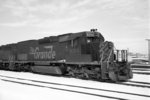 D&RGW 5374 and 3077 sit in the Pueblo yard awaiting their next assignment on 16 Feb 1990. Likely an Andy Payne negative, though unmarked.
Date: 05 May 2013
Owner: Nathan Holmes Collection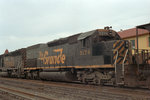 D&RGW 5374 on the front of a Colorado Springs Utilities coal train in downtown Colorado Springs, CO, circa 1984 (Joe Munson photograph)
Date: 11 Nov 2006
Owner: Nathan Zachman Collection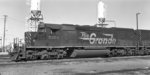 DRGW 5374 in Pueblo, CO, on 16-Apr-1984. Uncredited negative, but likely Andy Payne photo.
Date: 12 Dec 2009
Owner: Nathan Holmes Collection