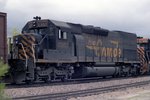 D&RGW 5357 northbound at Colorado Springs, likely in either 1984 or 1985. Joe Munson photo.
Date: 07 Jul 2010
Owner: Nathan Zachman Collection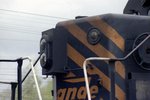 A closeup of the noselight on 5357, showing the mounting box particular to the fourth order of SD40T-2s. 5357, being in the second order, was not built with this, but received an 88" nose and the welded box as part of a wreck repair prior to May 198 ...
Date: 07 Jul 2010
Owner: Nathan Zachman Collection