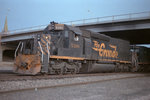 D&RGW 5398 heads up a Colorado Springs Utilities coal train just coming out of the Martin Drake plant in downtown Colorado Springs, CO, circa 1984 (Joe Munson photograph)
Date: 11 Nov 2006
Owner: Nathan Zachman Collection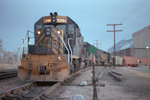 5398 leads up a train switching the old Martin Drake power plant lead, circa 1984. Joe Munson photograph.
Date: 11 Nov 2006
Owner: Nathan Zachman Collection
DRGW 5398 trails another motor with an outbound CSU empty. The bridge above is Cimarron St. in Colorado Springs. Joe Munson photograph, likely taken around 1984.
Date: 12 Dec 2006
Owner: Nathan Zachman Collection