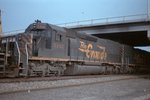 D&RGW 5342 in Colorado Springs, CO, circa 1984. Joe Munson photograph.
Date: 12 Dec 2006
Owner: Nathan Zachman Collection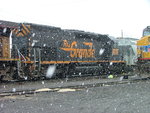 UP 2882 (ex-DRGW 5342) in Reno, NV, on 26-Feb-2007. I've added this because of the large black sheetmetal patch on the rear - it must be a recent wreck repair. Bill Parker photo.
Date: 02 Feb 2007
Owner: Bill Parker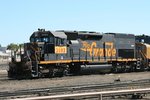 UP 2882 (ex-DRGW 5342) at Roseville Yard (California) on 1-Jul-2007
Date: 07 Jul 2007
Owner: ND Holmes