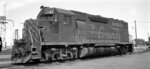 D&RGW 3143 in Pueblo, CO, on 10-May-1986. Uncredited, but likely an Andy Payne negative.
Date: 01 Jan 2010
By: Nathan Holmes Collection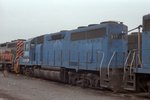 D&RGW 3143 under its original temporary number - DRGW 3155 - in Pueblo during 1984. This number would later be reassigned to one of the GP60s. Joe Munson photograph.
Date: 12 Dec 2006
By: Nathan Zachman Collection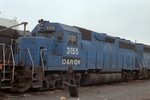 DRGW 3155 (to become DRGW 3143) sitting at Pueblo, CO, during 1984. Joe Munson, photographer
Date: 12 Dec 2006
By: Nathan Zachman Collection