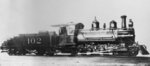 Crystal River Railroad #102, which later became D&RG 431 and eventually D&RGW 361. Date, location, and photographer unknown.
Date: 10 Oct 2007
Owner: Nathan Holmes Collection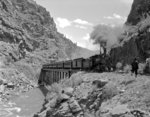 D&RGW 361 in the Black Canyon on a Rocky Mountain Railroad Club trip on 31 May 1949. The big bridge under the train is crossing the Gunnison, and was located right at the base of where Morrow Point Dam is today.
Date: 05 May 2013
Owner: ND Holmes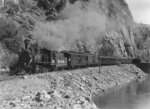 D&RGW 361 leads a westbound Rocky Mountain Railroad Club excursion at Curecanti, CO, on 19-Sep-1948. Robert Andrews photo
Date: 02 Feb 2009
Owner: Nathan Holmes Collection